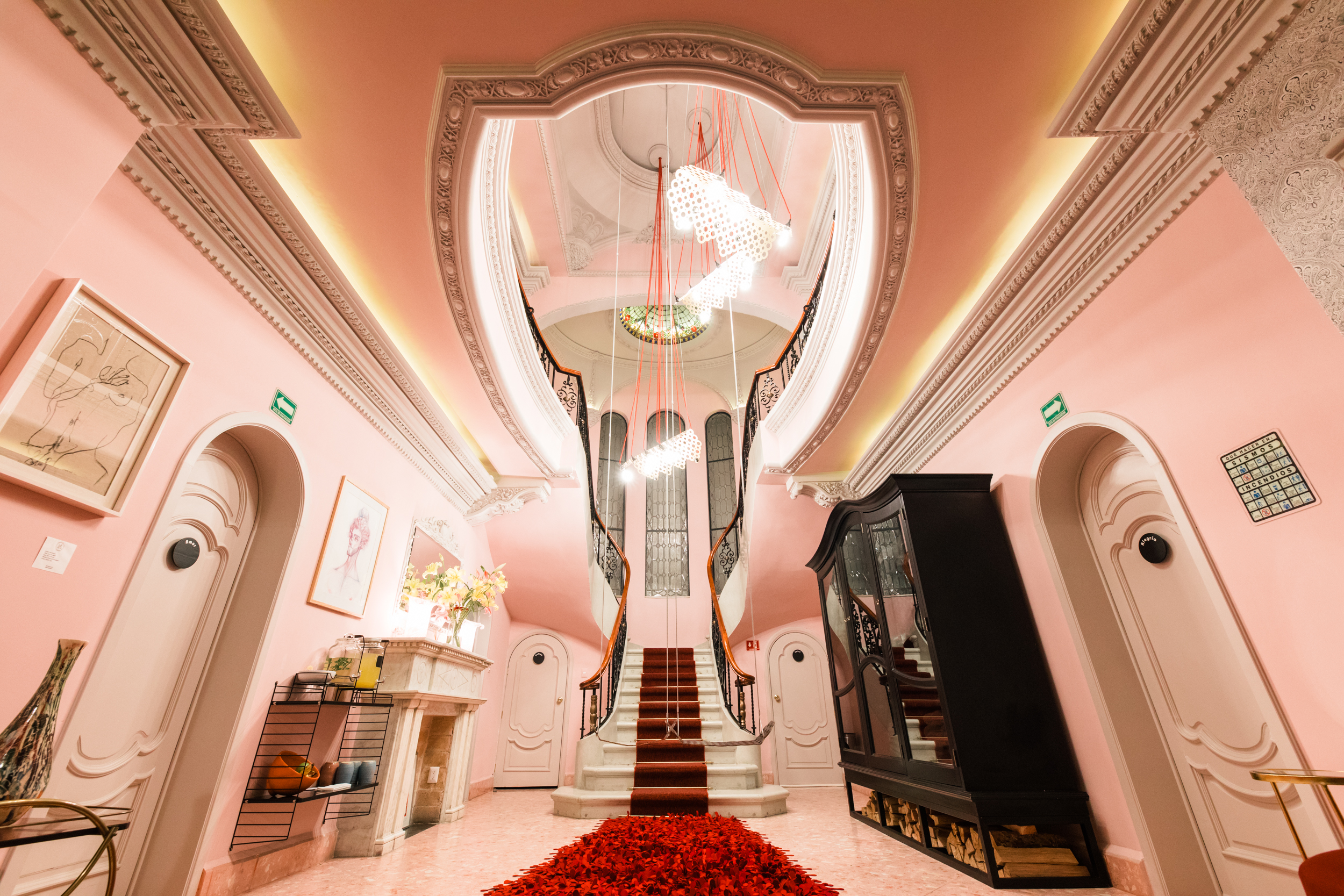 Hello Pug Seal Tennyson Boutique Bed & Breakfast
– Where relaxation is being triggered and the breakfast is a treat of local flavours. 
THE STAY
The Pug Seal Tennyson is a small and cozy boutique B&B. The interior design of the public areas are modern and warm.
The signature scent, the colors and the classical elements blend nicely together as you enter the main hall. Wooden floors, fresh flowers and all-day-round available cookies and flavoured water guarantee homely stay in busy metropole Mexico City.
Things that I especially appreciate when I am staying in a city abroad are cracking wooden floors, well choosen aminities and things like fresh flowers. It makes me feel at home.
The Pug Seal Tennyson did a great job choosing just the right scents and materials. The property is surrounded with a garden that offers a sereen entrance once you are buzzed in through the gate. There is a small courtyard furnished to lounge and chill with a magazine or get to business with your laptop at one of the tables.
The breakfast… The Pug Seal menu is so worth getting our of bed for! They serve local dishes, freshly made every morning in the open kitchen right next to the shared diningroom. I promise you will love it! Try the traditional Mexican coffee too (totally drewling while writing this)!
THE ROOM
The bed is huge. Loved it and slept like a rose.
The bathroom was one of a kind. Meaning it was a sort of  greenhouse with a yellow frame. The classic ceiling, the cracky wooden floors, the horizontal divided colored paintwork thourghout the entire room ánd the 'greenhouse'-bathroom… It just flows right into one another. Also a striking feature: a smartphone device that shows you the hotspots around and maps of the city. Only works in the hotel, but still… pretty cool.
Bathrobes and slippers also ready for you.
"TO BE ABLE TO TRIGGER PURE RELAXATION 
IS AN ART PURSUED BY MANY, EXECUTED BY FEW "
THE HOTEL
The interior design of Pug Seal Tennyson is done by Germán Velasco. The staff is superfriendly and the food is superb.
Pug Seal has 2 locations in Polanco, a very nice neighbourhood in Mexico City. The area is known for good restaurants, parks and shopping. There's always an Uber around (the best way to get around in UMCD is Uber) and it's safe to get home after dark.
All photography by Manoah Biesheuvel
For more info: www.pugseal.com